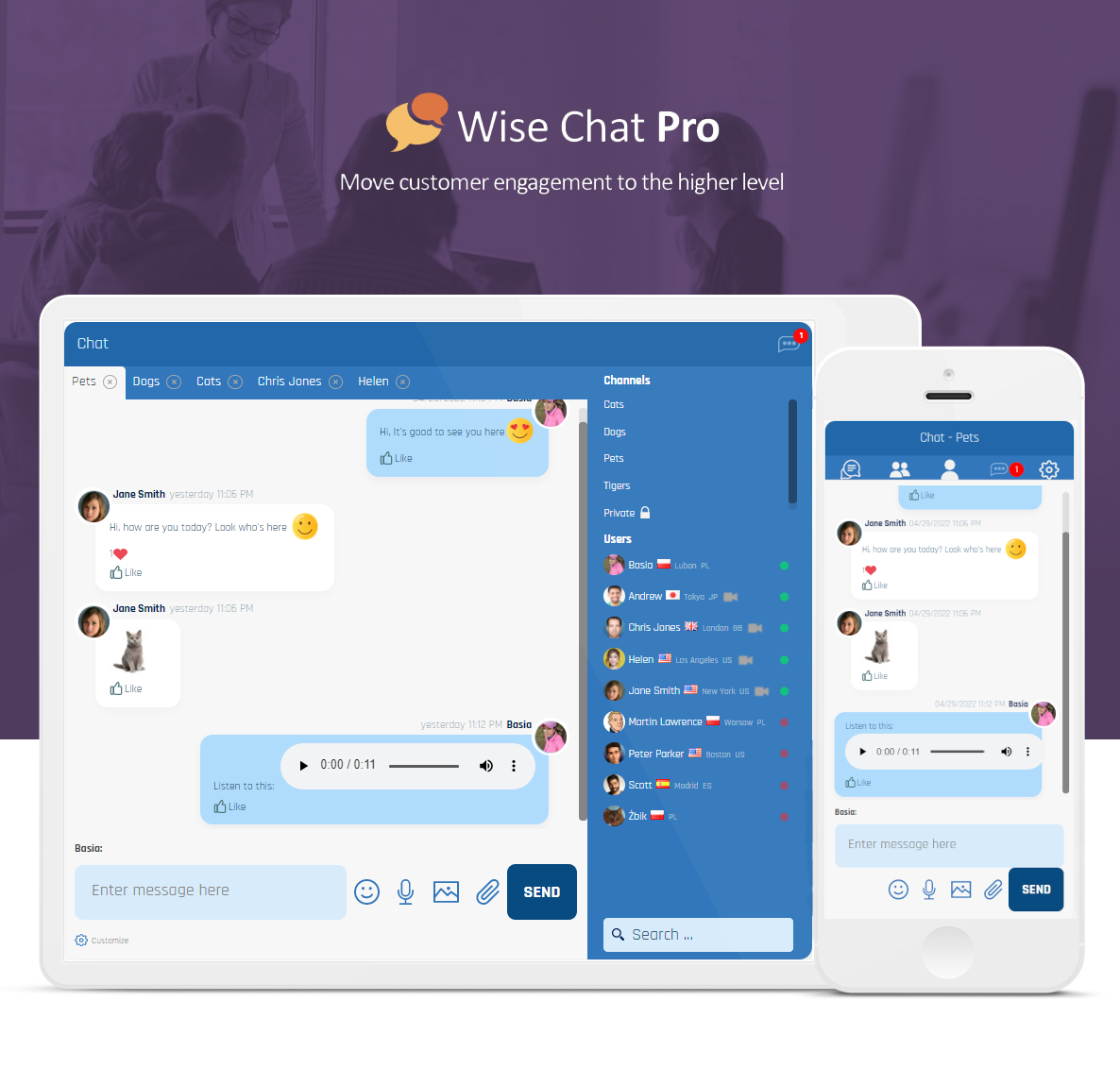 Thank you for the plugin, easy configuration and quick support

by

Dinh, Kr

on 28th January, 2023

Works smoothly, like the voice messages, thanks

by

Wensley Mora, CR

on 20th January, 2023

Customization on top level, fully adapted the widget to my brand. Thanks Marcin for your support

by

Jacques, CA

on 18th November, 2022

Wise Chat pro works smoothly and it's intuitive. The design is neat and tidy, that's what I like the most. Thanks for your support.

by

Jayden, US

on 7th November, 2022

Thanks for producing an outstanding product. My second purchase with you all and not regretting it.

by

Mike

on 18th June, 2022

So happy to see Voice Messages possible now. I was waiting for it! The quality of sound is great.

by

Theo

on 6th June, 2022

How easily and highly configurable tool. It made my sales expand, many more happy customers. Thanks for your support.

by

Lorenzo

on 6th June, 2022

LOVE your product. Super great.

by

Ian

on 27th November, 2021

I love the Wise Chat system and greatly appreciate your assistance.

by

Corey

on 27th October, 2021

Great! This is exactly what I need.

by

Scott

on 22nd August, 2021

Your chat program is the beast!

by

Terrisa

on 23rd May, 2021

Great product when you can figure out the various bits

by

Mike Bagley

on 2nd March, 2021

A great tool for my website

by

Mickey

on 6th January, 2021

Thank you for this great plugin

by

Radio Eliss

on 27th November, 2020

Greetings, Your Wisechat Pro plugin looks totally cool!

by

Yang Li

on 12th September, 2020

Nice chat! This is what I was looking for.

by

Arthur

on 19th August, 2020

Great plugin!

by

Yacine Sejerd

on 25th July, 2020

great work on the chat app!

by

Kirk Lee

on 6th June, 2020

Clean and simple solution

by

Jake Brown

on 11th April, 2020

Thanks for a very straightforward WP-native chat plugin!

by

Bryant Jones

on 15th February, 2020

Thank you for developing Wise Chat Pro, it's exactly what I've been looking for.

by

Manuel Vesques

on 23rd December, 2019

We very much like your product

by

Heemin Teu

on 2nd October, 2019

This is by far the best WordPress chat out there!

by

Scot Leland

on 14th August, 2019

I'd like some custom extensions via hooks

by

Dominic

on 8th July, 2019

Excellent chat plugin, I will definitely install it on our sites

by

Tommaso Sengnoli

on 9th May, 2019

Awesome plugin and support

by

Ron

on 29th March, 2019

Very impressed!

by

Wayne Appley

on 22nd March, 2019

amazing chat plugin, a lot of options and very simple

by

Flávio Lopeno

on 8th January, 2019

I love it, I like the themes and Facebook authentication. Would be nice to have YouTube integration

by

Rosangelo

on 30th November, 2018

I heard great opinions and they are true. I couldn't find better

by

julie taylor

on 2nd September, 2018

Really good chat plugin

by

Antonio Perez

on 27th July, 2018

Simple tu use - works out of the box

by

Olaf Hummelsen

on 8th July, 2018

Great plugin and great support!

by

Arnobio dos Santos

on 2nd June, 2018

Works great

by

Eric

on 26th April, 2018

works like a charm!

by

Bjarne Stromberg

on 17th March, 2018

We use it as a group chat plugin on BuddyPress site and it runs smoothly so far

by

Petros

on 3rd February, 2018

Wise Chat Pro is surely the leading chat plugin

by

Reeni

on 20th December, 2017

I love its private chats option

by

Stephane Rollins

on 16th November, 2017

we couldn't find a better chat plugin for wordpress, wise chat pro is the best!

by

Gabi

on 1st November, 2017

Works very well indeed, we love it!

by

Corey Olaoyer

on 14th September, 2017

Very good plugin, works perfect

by

Jason Felton

on 17th August, 2017

Awesome - highly recommended!

by

Liwiusz Nowy

on 9th August, 2017

Easy and Powerful !

by

Julius Nokevicus

on 2nd July, 2017

Just what I was looking for

by

Albert Ecker

on 7th June, 2017

Great, we use it on our corporate website and it works nice so far

by

Terry T.

on 29th May, 2017

Good chat plugin! Thank you for creating it

by

Andreas Terigas

on 6th May, 2017

I think it's a good plugin so far. Seems to work great even under heavy load.

by

Anonymous

on 14th April, 2017

I have to say that i'm really impresed by the chat

by

becky

on 22nd March, 2017

Thanks for creating the great plugin!

by

Jesse Dayton

on 14th March, 2017

Thank you for your support, I appreciate it

by

Herbert Leyton

on 25th February, 2017

Your plugin is awesome for functionality and easy use

by

Tobias Francis

on 17th January, 2017

Awesome chat plugin

by

Brigham Windsor

on 3rd December, 2016

I bought your plugin AND LOVE IT!

by

Máximo Keith

on 11th October, 2016

Congrats for this plugin! Great support!

by

Scotty Charlie

on 7th September, 2016

This is a great plugin, very pleased with the value

by

Terrence Roddy

on 25th August, 2016

It works perfectly for our needs

by

Claude

on 15th August, 2016

Everything seems to be working fine!

by

Santos Milburn

on 2nd July, 2016

Wise Chat is the best messenger for WordPress

by

Ralph Alcides

on 29th June, 2016

I must say that your plugin stands above all

by

Vergil Severiano

on 17th April, 2016

The best chat plugin ever!

by

Terry McGlenn

on 22nd March, 2016
Wise Chat Pro 3.5.4 = Wise Chat 3.1.4 + Premium Features
Wise Chat Pro is an advanced and highly popular chat plugin for WordPress. It requires no additional server, supports multiple chat rooms, bad words filtering, video calls, pictures / files posting and detailed appearance settings. The plugin is well designed for mobile devices. It has single-sign-on feature, provides easy localization for every language, moderation, backups, opening hours control and much more.
Wise Chat Pro 3.5.4
provides all the options available in free Wise Chat 3.1.4, but in addition it offers more advanced features listed below
completely replaces free Wise Chat 3.1.4 and therefore cannot be used together
See: Pricing | Demos | Changelog | FAQ
Pro Features:
Avatars
BuddyPress integration
Elementor integration
Voice messages
Custom emoticons
Private chats
Messages reactions (liking)
Chat button on profile page
FB/Google/Twitter login
Hooks
Video Calls
Facebook-like look
7 Themes
E-mail notifications
Gutenberg integration
GIFs Library
Edit posted messages
Replying to messages
Pending messages
Multisite support
All features | Ask a question | Check the details below!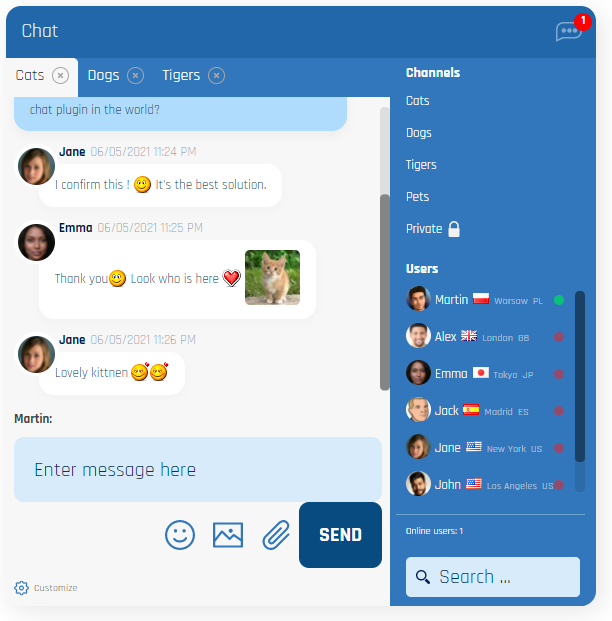 Private one-to-one chats and avatars
Let your users talk to each other in private conversations. Each user has also an option to ignore messages from unwanted users. There is no limit to the number of simultaneous private chats. Enhance appearance of the chat by displaying avatars of your users. Avatars can come from WordPress itself or from external services like Facebook, Twitter or Google+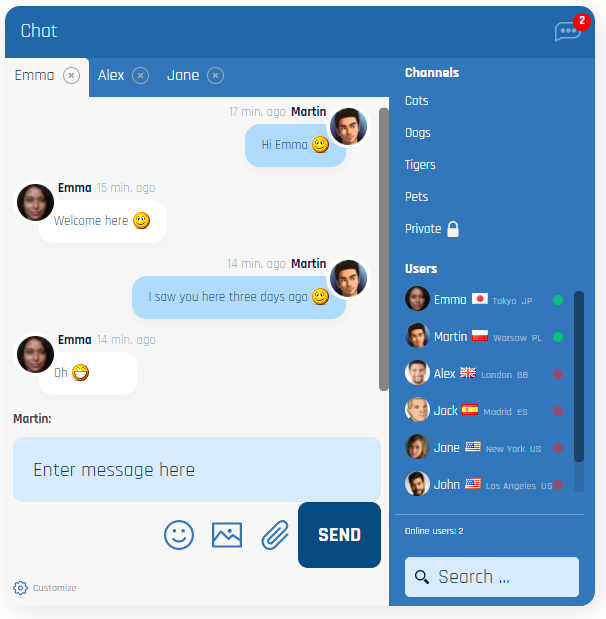 Video Calls
Make video calls to enrich the communication. Share your thoughts in an unlimited way.
* Video Calls feature requires free Twilio account, read more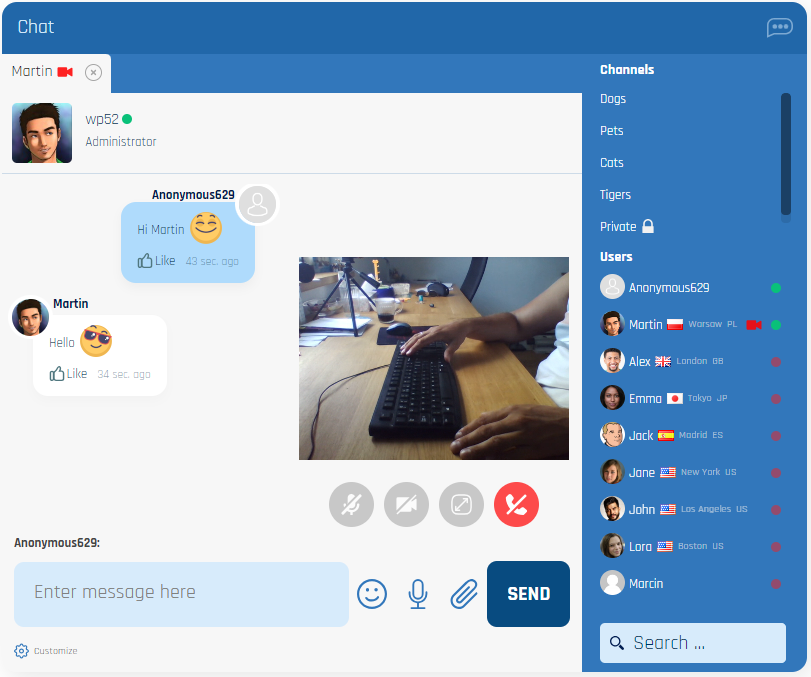 Voice Messages
Record your own voice and share the recording with other chatters.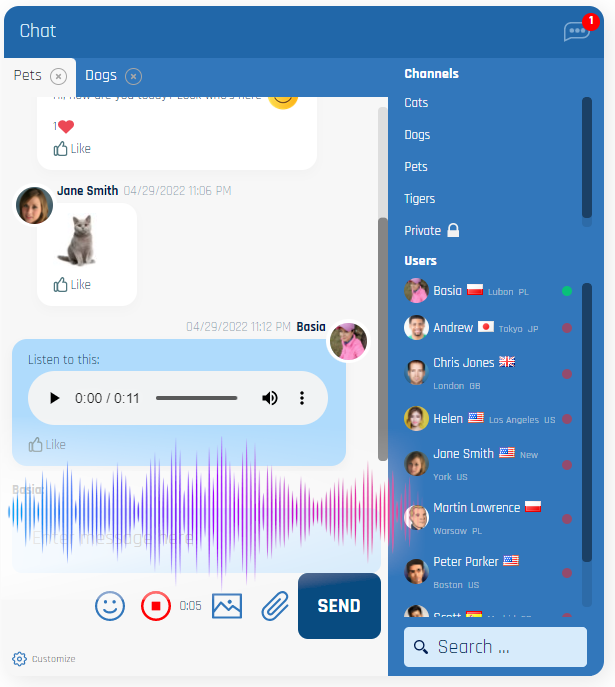 Sidebar mode (Facebook-like chat)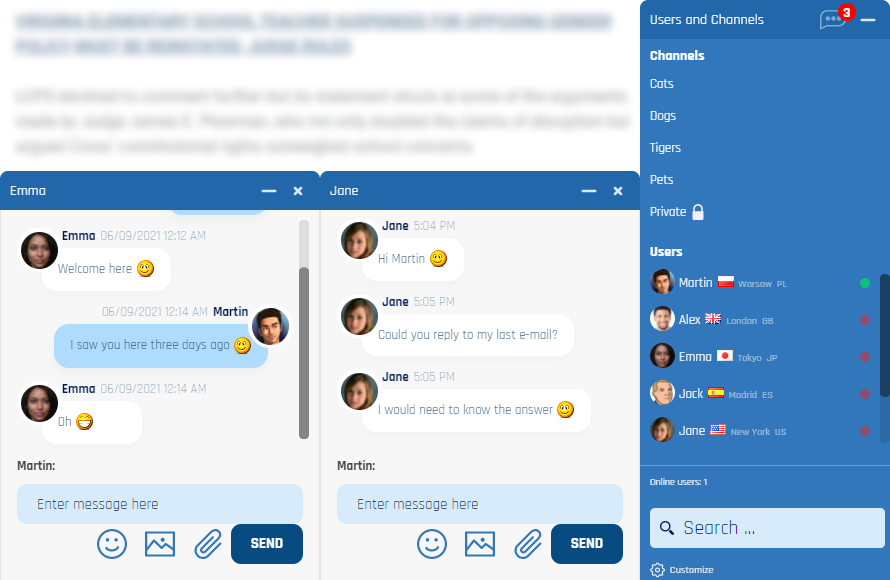 Reactions
Add an option to send simple reactions to messages.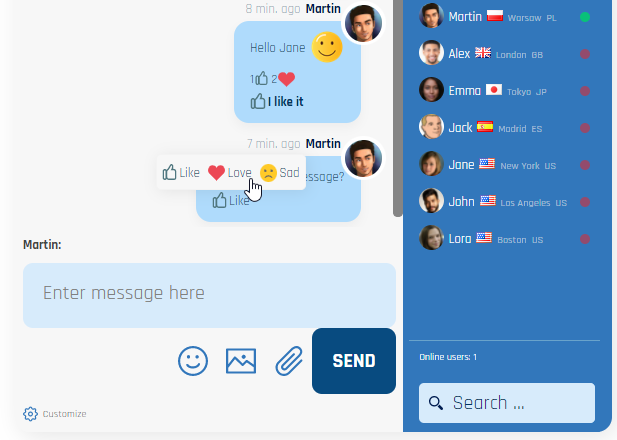 GIFs
Add animated GIFs to your chats.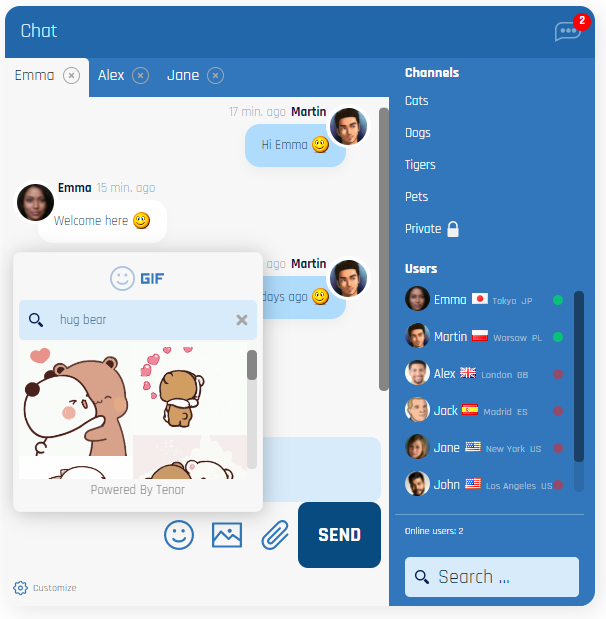 WordPress Gutenberg and Elementor support
Add the chat using your favorite page editor like WordPress Gutenberg or Elementor. Installing the chat is as easy as dragging and dropping Wise Chat element onto a page or post.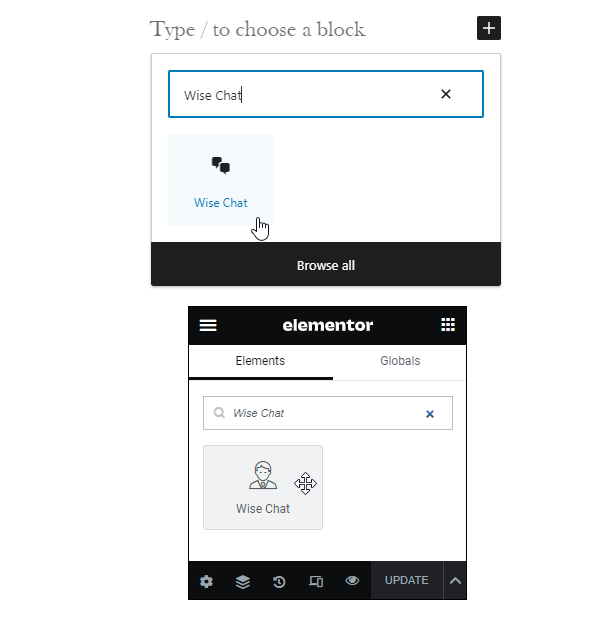 Moderation
Enable full moderation options for admin or moderators: messages deleting, messages editing, users banning, users kicking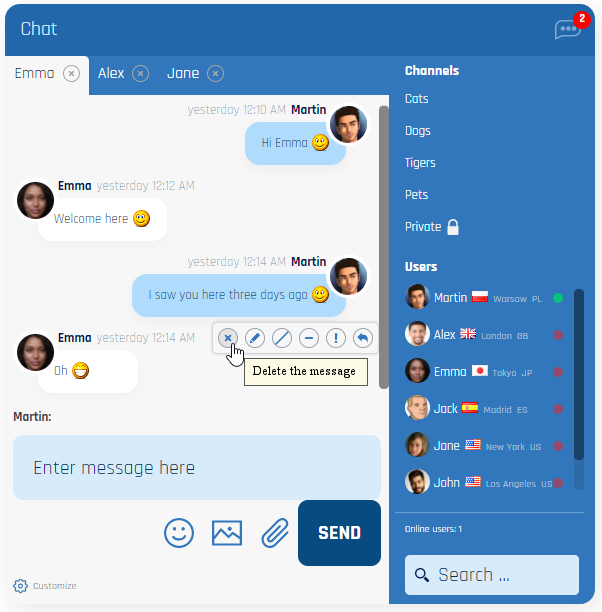 BuddyPress groups and friends integration
Integrate Wise Chat Pro into BuddyPress group and provide live communication tool for members. Mods and admins can get rights to moderate chat by deleting or banning users.
Screenshot 1 | Screenshot 2 | Screenshot 3 | Screenshot 4
Integrate Wise Chat Pro into BuddyPress friends and provide live chat tool for friends.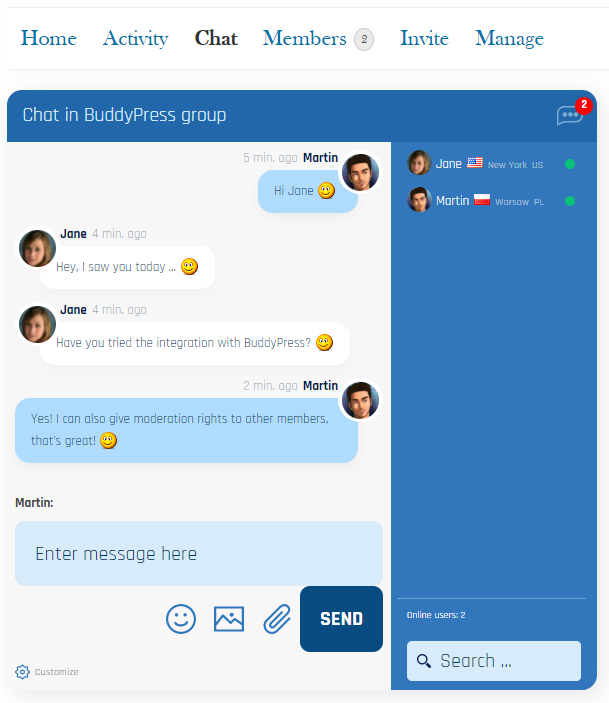 External authentication
Increase range of potential users by allowing them to log in using their accounts on social networking sites like Facebook, Twitter or Google+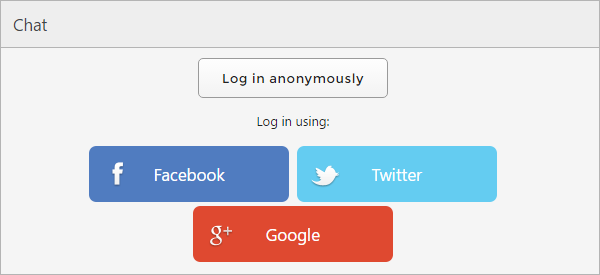 E-mail notifications
Notify chat participants, moderators or administrators when a new message is posted.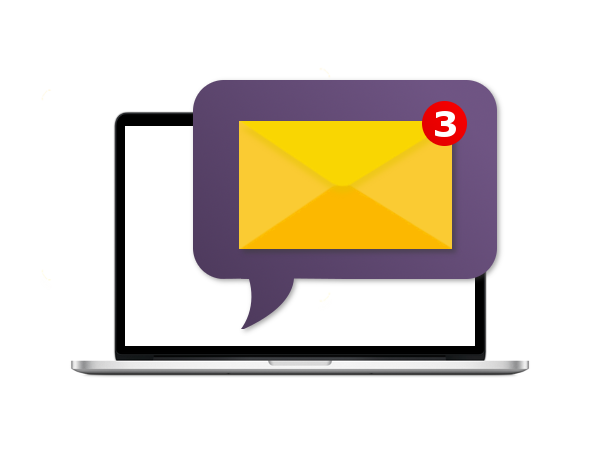 Pending messages and full moderation
Let your moderators do a full moderation of posted messages. Each message can be hidden until it is approved by moderators.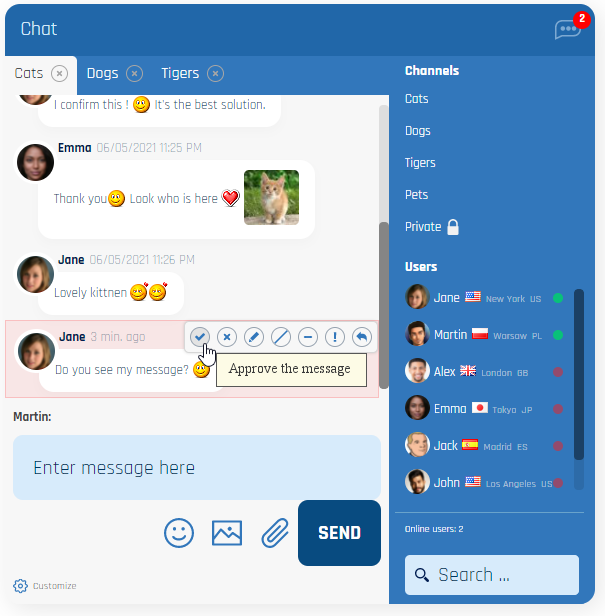 Replying to messages
Let your visitors reply to other messages. Use swipe right gesture to quickly reply to messages.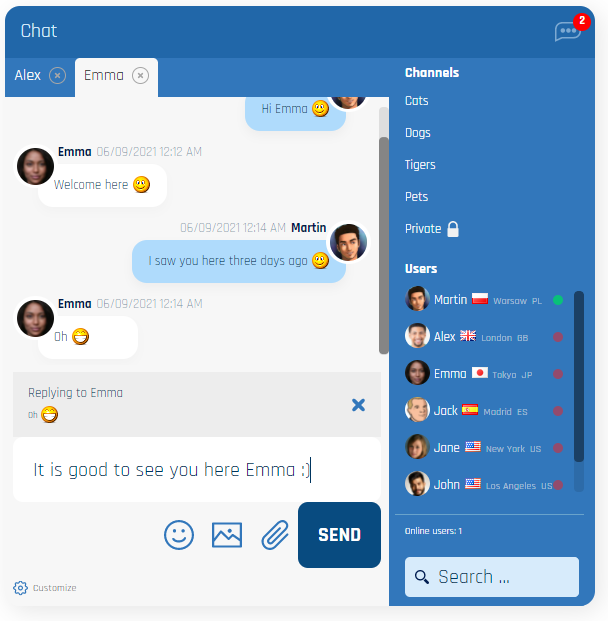 Hooks
Add your own code to the main points of the chat's logic.

Private messaging permissions
Define rules to restrict private messages to certain user roles.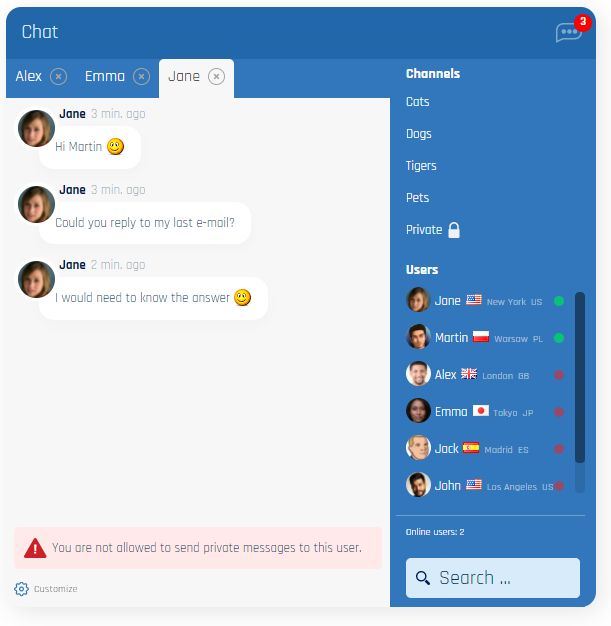 Multisite support
Wise Chat Pro can operate in WordPress multisite environment.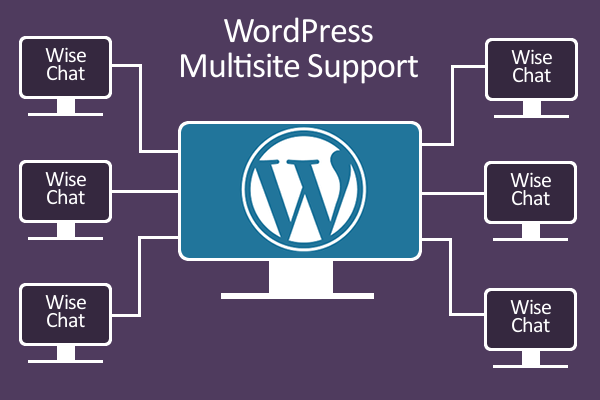 Custom Emoticons
Configure your own set of emoticons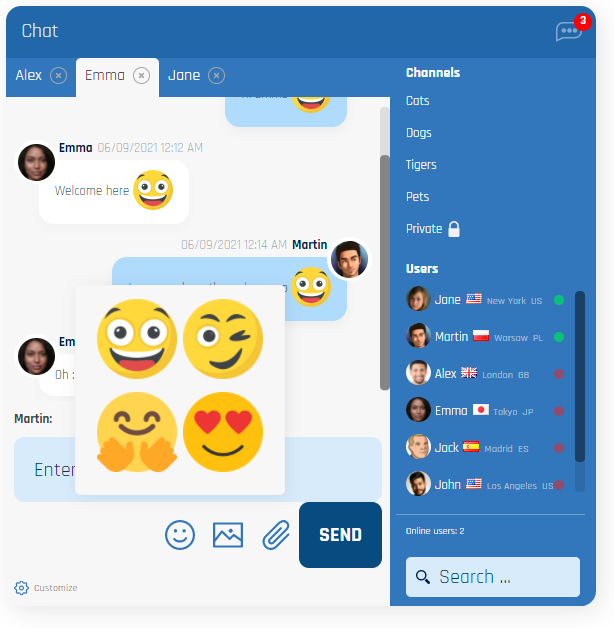 Six nice-looking themes ready to use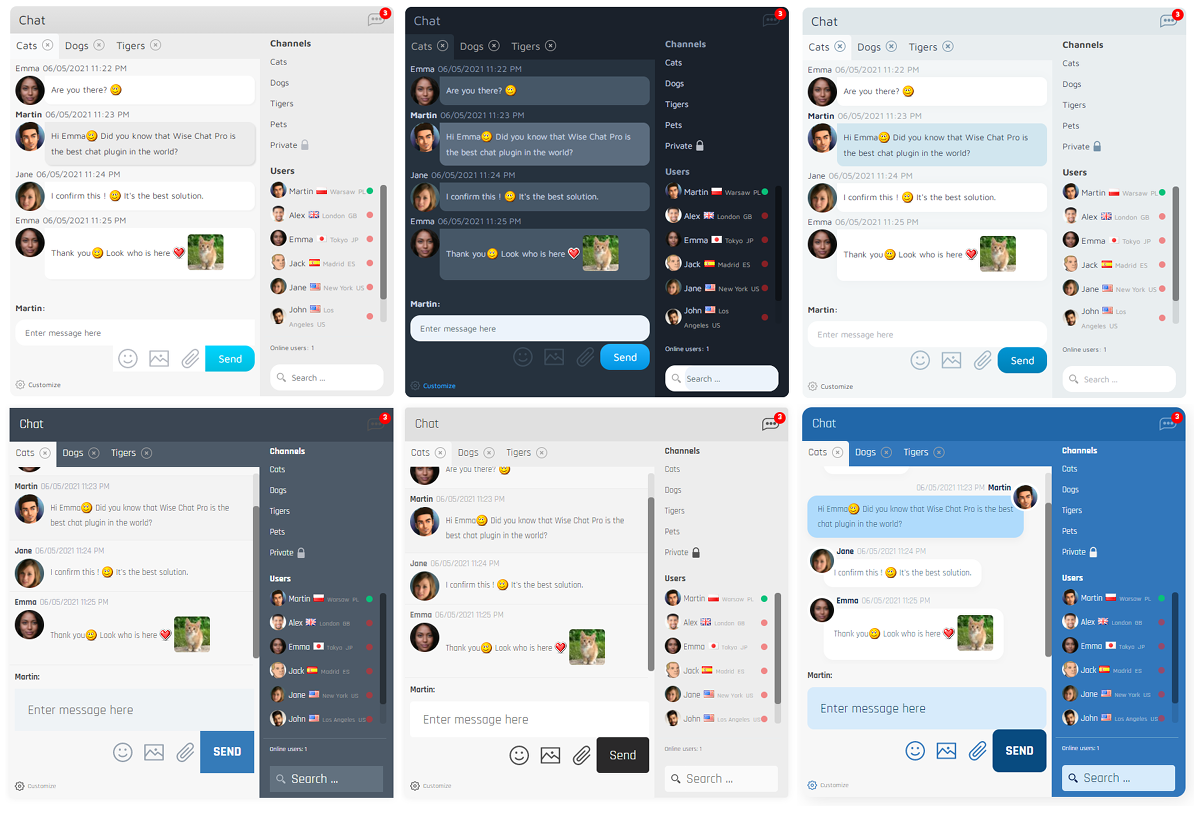 Choose one of the seven preconfigured themes that fit your website. You don't need to manually adjust the style, just click to apply a theme.